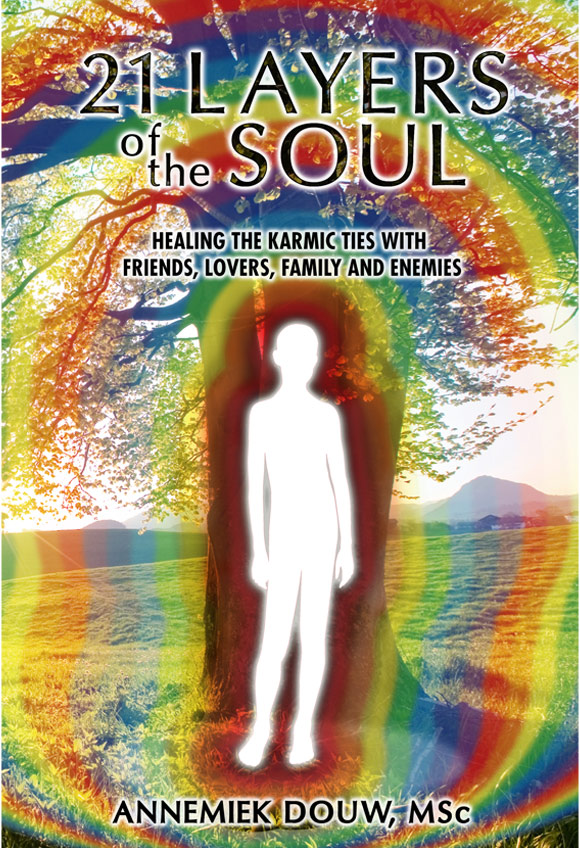 21 Layers of the Soul
Healing the karmic ties with friends, lovers, family and enemies.
21 Layers of the Soul is de Engelse vertaling van mijn boek De Ziel in het licht van haar hogere auralagen. Voor de Nederlandse omschrijving verwijs ik je graag even naar het Nederlandse boek. De Engelse is:
Prepare to Enter 21 New Doorways of Healing
You're already on a spiritual journey. Or perhaps, you're starting one right now. You've embarked on this path because you were curious to find out the Truth about life. Perhaps you felt lost, alone or without direction. Or, perhaps you or someone in your life became ill—spiritually, physically, mentally or emotionally—and you were desperate to find a way to heal the pain. You know the answer lies somewhere within the depths of your soul, but you don't know how to reach it, connect with it or hear its wisdom. If only you had some sort of inner guidance system—a 'GPS'—to help you navigate back to the right path. This is the book that can help you tap into and master that inner GPS…
21 Layers of the Soul:
healing the karmic ties with friends, lovers, family and enemies
In this book, author Annemiek Douw MSc shares over 100 case histories from more than 15 years of healing work, during which time she discovered the 21 layers of the aura—something never before revealed in any other healing book. Meticulously analysed and defined, Annemiek shows us how exploring these 21 layers can provide us with a clear blueprint of the intricate system that leads us to incarnate on the Earth.
You'll learn the meaning of each of the 21 layers, and how to recognise their influence in your life, so you can start to unravel so many of the mysteries that have perplexed you for decades—or perhaps even lifetimes. If you've ever wondered…
• Whether there is such a thing as 'family karma'
• Whether there is an ultimate plan for your life
• Whether we make 'soul agreements' with others before we are born
• Whether we can become influenced by the whole of humanity
…then, this book will give you both practical and intuitive answers to the questions you've been asking.
You'll discover how these 21 layers can help explain:
• Why some people can't stop cheating on their spouse
• Why some children die in infancy
• Why sexual abuse is impacting your life
• Why the death of a loved one can sometimes make you ill
• Why you're just not meeting the love of your life
• How and why angels, guides, light beings and deceased loved ones communicate with you
• Why you suffer from thyroid problems, chronic fatigue syndrome, or other health issues
• Why some Autistic children have extraordinary (and even paranormal) perceptual abilities
• Why you're not recovering from cancer after your treatment is over
• How you suffer when you block your natural paranormal abilities
• And much more
Simply by reading how Annemiek worked with these real-life patients to unblock each specific layer, you'll begin to heal at an energetic level and grow as a soul. And then, as you learn how to recognise the influences of these 21 layers in your own life, you can deepen your healing through five of Annemiek's unique clearing exercises, which you'll find in the back of the book. So after all your spiritual searching, if you're finally ready to find ONE book that can help you get reconnected and regain the peace and ease you so dearly desire, pick up 21 Layers of the Soul and start to navigate the wonderful journey back to your Self.
Wil je 21 Layers of the Soul bestellen? Dat kan, via deze link.